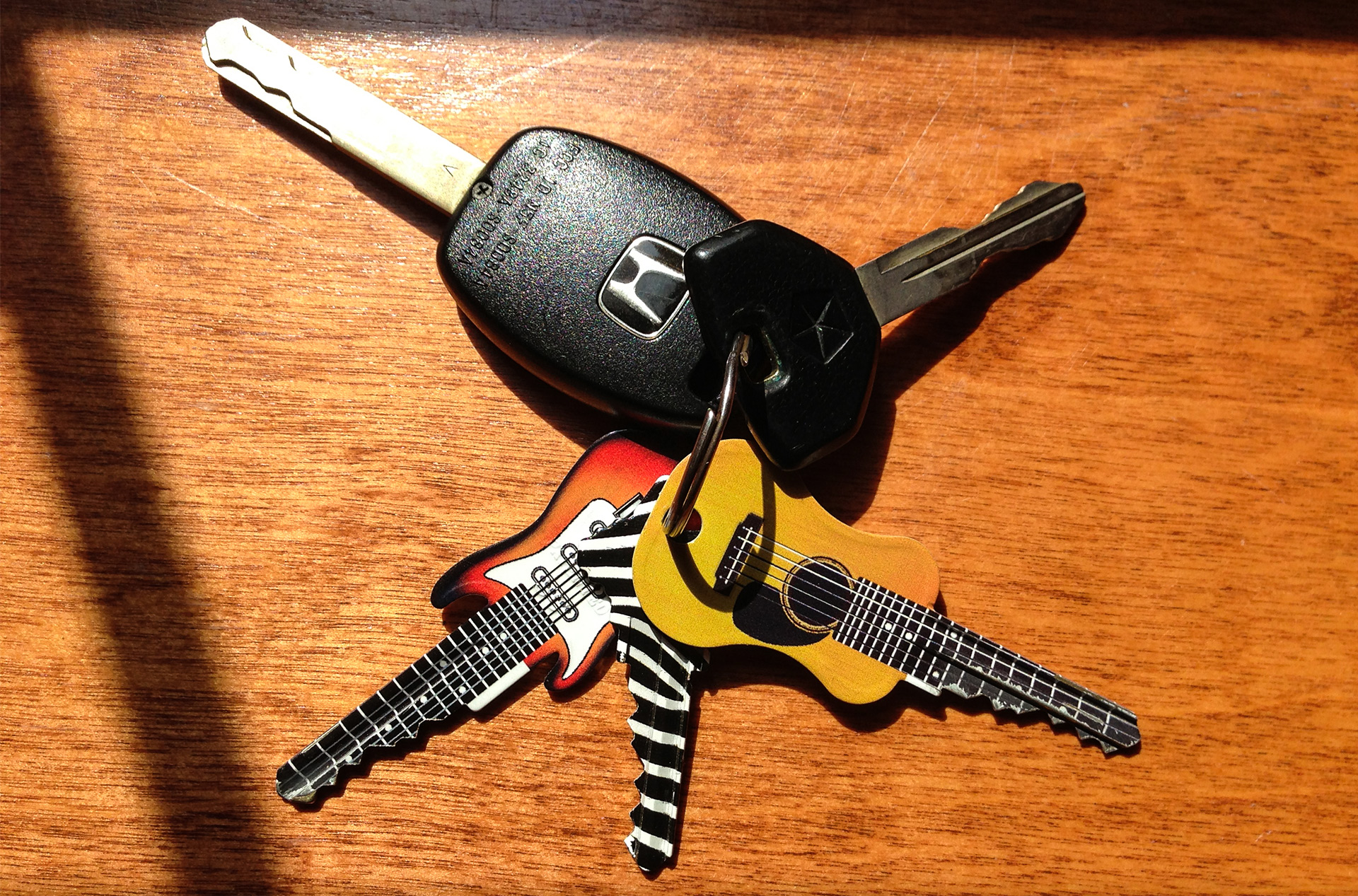 Differentiating one key from another isn't easy in the dark. But I found some keys you could easily identify even if you were in the throes of a foggy hangover from your last worldwide tour. There's no mistaking these tiny replicas of the classic Gibson Flying V, Fender Stratocaster or Martin D-28 guitars.

Rockin' Keys are $4.95 key blanks that can be cut to fit locks made by Kwikset, Schlage and Weiser. Chances are your abode's locks are made by one of those companies, three of the most prevalent residential lock manufacturers. Rockin' Keys maker, the TD Rand Company, says key blanks that will fit Yale locks are on the way.
I chose a tiny sunburst Fender Stratocaster and the best of the bunch, a little acoustic guitar that looks like a bull-necked version of my Martin D-28.

One caveat TD Rand alerted me to in a note shipped with the package: If you have a Schlage lock (designated as SC1), be sure to get it cut at a hardware store or locksmith with a traditional key-cutting device, rather than the automated key cutting machine you'll find at Home Depot, Lowes and other big-box stores — those newfangled cutter-bots have a hard time dealing with the keys' unconventional shape.
That's a shame, because in some cities, it's becoming increasingly hard to find the old-style key cutters. And when the keys are cut to the proper shape, they get slightly beat up along their jagged edges, making their appearance less than perfect.
That slight flaw doesn't bother me too much, though. I like the idea of these funky keys. Finally, centuries-old lock-and-key tech has found its way into the infinitely customizable 21st century.
Images: Charlie White and Rockin' Keys